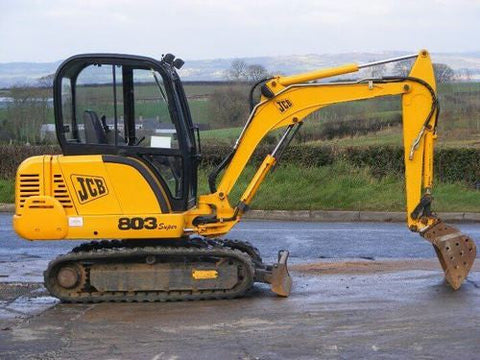 JCB 802 802.4 802 Super Mini Crawler Excavator & Engine Service Manuals
JCB 802 802.4 802 Super Mini Crawler Excavator & Engine Service Manuals
IMPROVED PDF manuals have: Bookmarks + Searchable Text + Index --BEST ORGANIZATION! 
This Workshop Service repair manual offers detailed servicing instructions and will give you complete step by step information on repair, servicing, preventative maintenance & troubleshooting procedures for your Jcb Mini Excavator  .
This comprehensive service manual features photos and illustrations along with step-by-step instructions that will guide you through the entire repair process. This manual contains all you need to know to keep your Jcb Mini Excavator working correctly. You will find that this manual is an indispensable source of detailed maintenance and repair information and is the only service repair manual you will need  . It will help you better understand, care for, and overall will lower the repair and maintenance cost for your JCB.
Include :
1. JCB 802 802.4 802 Super Mini Crawler Excavator Workshop Service Manual 
2. Perkins 100 Series Engines Workshop Service Manual 

Machine Model and Serial Numbers: 
JCB 802 - 732001 to 732449 
JCB 802.4 - 732450 to 732999 
JCB 802 Super - 733001 to 733847 
JCB 802 Super - 733848 and up 
  *Detailed illustrations, exploded diagrams, drawings and photos guide you through every service repair procedure. 
     Contents :
General Information 

Care and Safety 

Routine Maintenance 

Attachments 

Body and Framework 

Electrics 

Controls 

Hydraulics 

Gearboxes 

Track and Running Gear 

Engine 
---
We Also Recommend
---