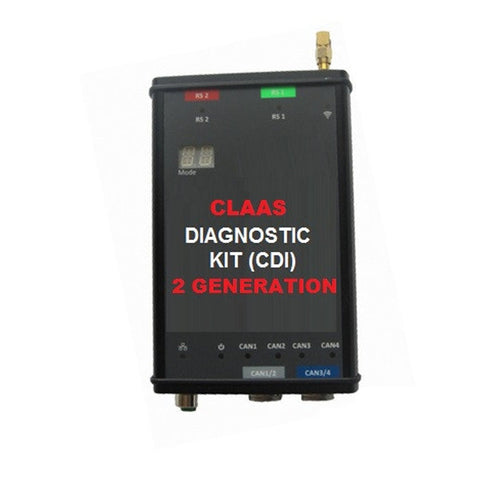 Genuine CLAAS DIAGNOSTIC KIT (CDI) - With Latest CLAAS CDS 7.5.1 [Update 2020] (CDI, (4 CAN, Wi-Fi, 2nd generation))
$3,999.00

$3,999.00

Save $8,300
---
---
CLAAS DIAGNOSTIC KIT (CDI) - With Latest CLAAS CDS 7.5.1 [Update 2020]
Online Installation & Activation Service !
Include Worldwide D

HL

Express Shipping !!
CLAAS Diagnostic Interface (NEW) is a high performance 4 CAN-interface communicating by WiFi that allows a transfer of CAN-data between desktop PC or notebook and CAN-bus.

It is highly mobile and flexible tool that can handle single CAN messages as well as comprehensive CAN traffic in a complex network.

With the help of some optional features the can be used for error monitoring and diagnostics. The interface has an integrated logic that can detect error frames and count them into an internal memory. This is done for finding sporadic errors like falsified messages. There is also a measurement of analoge current levels implemented.


CDS (CLAAS Diagnostic System) - allow defects to be identified quickly and the on-board management system to be configured and updated.

Supported models: Lexion, Tucano, Avero, Dominator, Mega, Medion, Jaguar, Xerion, Axion, Atos, Axos, Talos, Nexos/Elios, Ares, Celtis, Ergos, Cergos, Ceres, Quadrant, Rollant, Variant, Cougar, Disco, Liner, Cargos, Quantum, Scorpion, Torion.

Supported languages: English, German, French, Spanish, Bulgarian, Swedish, Russian, Romanian, Portutuese, Polish, Dutch, Italian, Hungarian, Croatian, Finnish, Danish, Czech.

Hardware Included :
 • CLAAS Diagnostic Interface (4 CAN, Wi-Fi)
• OBD2 cable
• 7-pin cable
• 8-pin cable
Software Included :

• CLAAS CDS 7.5.1 (Runtime 3.5.0) [Update 2020]
 • CLAAS WebTic© 2015 Offline
---
We Also Recommend
---