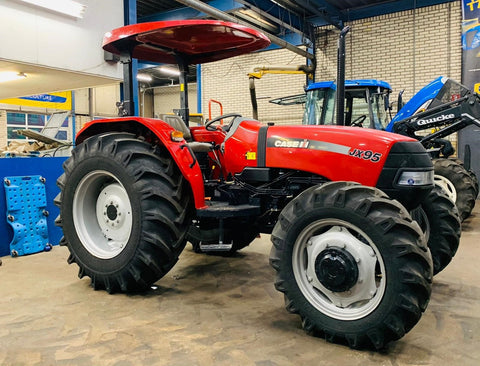 Case IH JX55 JX65 JX75 JX85 JX95 Tractors Official Operator's Manual
Case IH JX55 JX65 JX75 JX85 JX95 Tractors Official Operator's Manual
The Best  PDF Manuals Online Includes : Bookmarks + Searchable Text + Index = Fast Navigation And Best Organization ! 
 This is the COMPLETE Official Official Operators Manual for the Case IH JX55 JX65 JX75 JX85 JX95 Tractors.
This PDF file is Bookmarked and SEARCHABLE to make what you need easy to find. 
This 
manual contains important information about the safe operation, adjustment and
maintenance of your JX Tractors . Refer to the Detail Index at the
end of this manual for locating specific items about your machine.
Models & Serials Covered:
6-61331
Table of Contents: 
Section 1 - General Information and Safety
To the owner
Introduction
Using this manual 
Communication for the user
Important ecological considerations
Tractor identification data
Working safely 
Safety covers and guards 
Safety decals
Standardized symbols 
Section 2 - Controls, Instruments and Operation
Driver's seat 
Instrument Panel 
Instrument console controls
Operating controls, right-hand side 
Operating controls, left-hand side 
Cab controls
Cab 
Cab air conditioning system 
Operation
Before using the tractor 
Starting the engine
12x12 Synchronized mechanical shuttle - 30 km/h ( 1 9 mph) (12F+12R - Synchro Shuttle) 
20x12 Synchronized mechanical shuttle with creeper - 30 km/h ( 1 9 mph)
(20F+ 12R - Synchro Shuttle) 
Mechanical MFD engagement 
Mechanical controlled differential lock
Lim-slip front differential lock 
Section 3 - Field Operation 
Power take-off 
Hydraulic lift 
Three-point linkage 
Towing equipment
Folding ROPS 
Remote control valves
Tires, wheels, tracks, ballast 
Wheel track adjustment 
Steering angle adjustment 
Tire maintenance 
Tire loading information 
Data and inflation pressures
Tire combinations 
Ballasting 
Maximum permitted weight
Section 4 - Lubrication and maintenance 
Introduction 
Tractor Refueling 
Access for inspection and maintenance
Products and quantities for refilling
Lubrication and maintenance table
Flexible maintenance 
When the warning light is on 
Every 10 hours of work 
Every 50 hours of work 
Every 300 hours of work 
Every 900 hours of work 
Every 1200 hours or every year
Every 1200 hours of work or every 2 years
General maintenance 
Recommendations for bodywork maintenance 
Section 5 - Troubleshooting 
Section 6 - Tractor storage 
Section 7 - Accessories
Electrical system 
Section 8 - Specifications and data
Index 
Service Sheets 

======================================== 
Product Details :

File Format: PDF 
Compatible: All Versions of Windows & Mac 
Language: English 
Requirements: Adobe PDF Reader & WinZip 

---
We Also Recommend
---