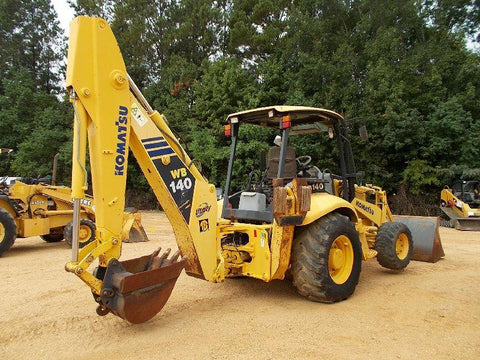 Komatsu WB140-2 WB150-2 Backhoe Loader Official OEM Workshop Service Repair Manual #3
Komatsu WB140-2 WB150-2 Backhoe Loader Official
 Worksop Service Repair Manual #3
Exclusive Quality !! Fully Hyper Linked !
The Best  PDF Manuals Online Includes : Bookmarks + Searchable Text + Index = Fast Navigation And Best Organization ! 
Complete & Official OEM Workshop Service Manual PDF Document
This Service repair manual offers detailed servicing instructions and will give you complete step by step information on repair, servicing, 
preventative maintenance & troubleshooting procedures for your Komatsu Equipment.
 This comprehensive service manual features photos and illustrations along with step-by-step instructions that will guide you through the entire repair process.
 This manual contains all you need to know to keep your Komatsu machine working correctly. 
You will find that this manual is a indispensable source of detailed maintenance and repair information and is the only service repair manual you will need for your Komatsu Equipment. 
It will help you better understand, care for, service, and overall will lower the repair and maintenance cost for your Komatsu .
* PDF FORMAT 
*Fully Bookmarked chapters for easy navigation allowing you to identify the exact service repair procedures in the quickest time possible. 
*Detailed illustrations, exploded diagrams, drawings and photos guide you through every service repair procedure. 

Models and Serial Numbers Covered :
WB140-2 -140F10001 and UP
WB140-2 - 30026 and UP
WB150-2 - 150F10001 and UP
CONTENTS :
10 STRUCTURE AND FUNCTION........................................................................................ 10-1

Power train ................................................................ 2
Transmission ............................................................. 4
Drive shafts................................................................ 9
Control valve block .................................................. 11
Front axle................................................................. 12
Rear axle ................................................................. 15
Hydraulic pump........................................................ 20
Steering unit ............................................................ 41
Hydraulic circuit (WB140-2)..................................... 43
Hydraulic circuit (WB150-2)..................................... 44
Shovel control valve ................................................ 46
Backhoe control valve ..............................................50
CLSS........................................................................57
Solenoid valve ..........................................................71
Safety valve..............................................................72
Brake pump..............................................................74
Shovel cylinder .........................................................75
Backhoe cylinder ......................................................76
Air-conditioning unit..................................................79
How the air-conditioning unit functions.....................80
Electrical diagram ....................................................81
Electrical diagram (Air conditiong)............................83
20 TESTING AND ADJUSTING ............................................................................................ 20-1
Normal or standard technical data............................. 2
Special tools ............................................................ 26
Measuring engine speed ......................................... 27
Adjusting valve clearance........................................ 28
Measuring compression pressure ........................... 29
Testing and adjusting fuel injection timing............... 30
Checking and tightening the fan - belt ..................... 32
Checking and tightening the compressor fan - belt . 33
Measuring accelerator pedal operating
travel and accelerator lever ..................................... 34
Adjusting brake pedal travel, brake alignment,
microswitches .......................................................... 36
Air bleeding - releasing residual pressure ............... 37
Checking and setting pressure in the attachments
hydraulic circuit ........................................................ 40
Testing and adjusting of load sensing signal
(LS valve) ................................................................ 46
Testing and adjusting of unloading valve .................47
Checking unloading valve functionality ....................48
Testing priority valve operation ................................49
Testing and setting steering control
system pressure .......................................................50
Testing brake system ...............................................51
Control of the engine speed under load ...................53
Testing pressures in the power train group ..............55
Testing the correct functioning of the power train
clutches ....................................................................57
Adjusting the sensor for return to dig device ............58
Analysis of causes hydraulic drift .............................59
Testing the air-conditioning unit ...............................64
Emptying the air-conditioning unit ............................66
Troubleshooting........................................................67
When
30 DISASSEMBLY AND ASSEMBLY.................................................................................. 30-1

HOW TO READ THE MANUAL................................. 3
PRECAUTIONS TO BE TAKEN WHILE WORKING. 4
SPECIAL TOOLS ...................................................... 5
STARTING MOTOR
Removal and installation ........................................... 9
ALTERNATOR
Removal .................................................................. 10
Installation ............................................................... 11
AIR-CONDITIONING UNIT COMPRESSOR
(Only for machines equipped with an air-conditioning unit)
Removal .................................................................. 12
Installation ............................................................... 13
INJECTION PUMP
Removal .................................................................. 14
Installation ............................................................... 17
INJECTION NOZZLES
Removal and installation ......................................... 18
THERMOSTAT
Removal and installation ......................................... 19
COOLING LIQUID PUMP
Removal .................................................................. 20
Installation ............................................................... 21
TURBOCOMPRESSOR
Removal .................................................................. 22
Installation ............................................................... 23
CYLINDER HEAD
Removal .................................................................. 24
Installation ............................................................... 26
ACCUMULATOR DISCONNECTING SWITCH
Removal and installation ......................................... 28
FRONT COUNTERWEIGHT
Removal and installation ......................................... 29
RADIATOR-OIL COOLER UNIT
Removal .................................................................. 30
Installation ............................................................... 32
CONDENSER
(Only for machines equipped with an air-conditioning unit)
Removal and installation ......................................... 33
HYDRAULIC OIL COOLER
Removal ...................................................................34
Installation ................................................................35
TRANSMISSION OIL COOLER
Removal and installation ..........................................36
MUFFLER
Removal and installation ..........................................37
EXHAUST PIPE
Removal and installation ..........................................38
ENGINE HOOD
Removal ...................................................................39
Installation ................................................................40
CAB
Removal ...................................................................41
Installation ................................................................44
HEAT AND AIR-CONDITIONING GROUP
Removal ...................................................................45
Installation ................................................................46
FUEL TANK
Removal and installation ..........................................47
HYDRAULIC OIL TANK
Removal and installation ..........................................48
ENGINE-GEARBOX-PUMP GROUP
Removal ...................................................................49
Installation ................................................................54
PISTON PUMP
Removal ...................................................................55
Installation ................................................................56
TRANSMISSION
Removal ...................................................................57
Installation ................................................................60
Disassembly and assembly......................................61
CONVERTOR
Removal and installation ..........................................61
TRANSMISSION-REVERSE, DIRECTION
INDICATOR AND HEADLIGHT DIPPER BEAM
CONTROL GROUP
Removal and installation ........................................139
STEERING UNIT
Removal and installation ........................................140
40 MAINTENANCE STANDARD........................................................................................... 40-1

Transmission ............................................................. 2
Front axle................................................................... 7
Rear axle ................................................................. 10
Hydraulic pump........................................................ 14
2-Spool control valve ............................................... 16
3-Spool control valve ............................................... 18
6-Spool control valve ............................................... 20
7-Spool control valve ............................................... 23
8-Spool control valve................................................25
Brake pump..............................................................26
Shovel cylinders .......................................................27
Backhoe cylinders ....................................................28
Front working equipment..........................................32
Swing bracket...........................................................34
Backhoe working equipment ....................................36

------------------------------- 
File Format: PDF 
Pages: 486
Printable: Yes 
Language: English 
------------------------------- 
---
We Also Recommend
---