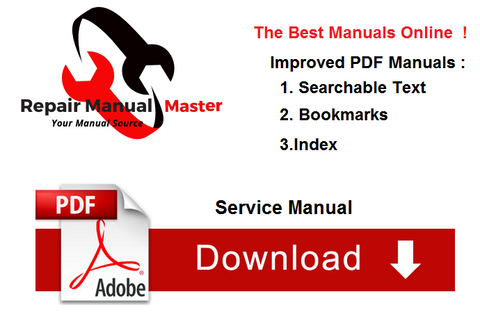 John Deere Series 220 Diesel Engines 3TN66, 3TNA72 (3009) Component Technical Service Manual
John Deere Series 220 Diesel Engines 3TN66, 3TNA72 (3009) Component Technical Service Manual
The Best  PDF Manuals Online Includes : Bookmarks + Searchable Text + Index = Fast Navigation And Best Organization ! 
This Component Technical Manual (CTM3) covers
the recommended repair and adjustment procedures
for the following engines:
• 3 and 4TN Series Diesel Engines used in John
Deere Lawn and Grounds Care and small
Industrial products.
• Series 220 Diesel Engines offered as OEM units.
Three different configurations are available:
Base industrial engine, industrial power unit or a
generator drive unit

This manual contains information and data to this engine  model. Has specs, diagrams, and actual real photo illustrations, These technical manual is as good as it gets for Diagnosing, Repairing, and Maintenancing John Deere machinery. In addition to space savings, nice thing about having PDF files instead of a hard-printed manual is that you can use the Search feature in Acrobat to find just what your looking for and just print out the exact pages you need... or all manual. 

CONTENTS : 
 

Safety

Specifications and

General Information

3TN66, 3TNA72 (3009)

3TN75, 3TN78, 3TNC78 (3011),

3TN82, 3TNA82, 3TN84 (3014)

4TN78T, 4TN82, 4TN84(T) (4019)

4TN100

Accessories - Series 220

Power Unit Engines

Engine, Air Intake and

Fuel System

Electrical System - Series 220

Power Unit Engines
======================================== 
File Format: PDF 
Compatible: All Versions of Windows & Mac 
Language: English 
Requirements: Adobe PDF Reader & WinZip 
---
We Also Recommend
---