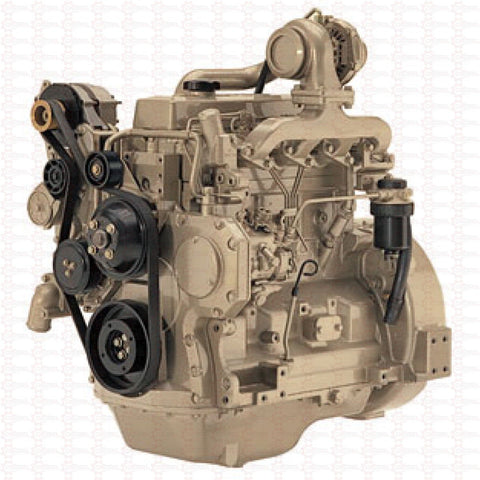 John Deere Powertech 8.1 L 6081 OEM Diesel Engines Operator's Manual
John Deere Powertech 8.1 L 6081 OEM Diesel Engines Operator's Manual
The Best  PDF Manuals Online Includes : Bookmarks + Searchable Text + Index = Fast Navigation And Best Organization ! 
This manual contains information and data to this model. Has specs, diagrams, and actual real photo illustrations, These technical manual is as good as it gets for Operating and Maintenancing John Deere machinery. In addition to space savings, nice thing about having PDF files instead of a hard-printed manual is that you can use the Search feature in Acrobat to find just what your looking for and just print out the exact pages you need... or all manual. 
Models Covered : 
This manual covers all
POWERTECH 8.1L OEM engines.
Those engines produced starting in
the year 1996 are noted as engines
( —199,999).
CONTENTS : 
Record Keeping Using Diagnostic Gauge to Access
Record Engine Serial Number . . . . . . . . . . . . . . 01-1 Engine Information (Electronic Panel) . . . . . . . 15-9
Engine Option Codes . . . . . . . . . . . . . . . . . . . . . 01-2 Using Touch Switches to Display
Record Fuel Injection Pump Model Number . . . . 01-4 Information . . . . . . . . . . . . . . . . . . . . . . . . . . 15-12
Record PTO Serial Number . . . . . . . . . . . . . . . . 01-4 Changing Units of Measure (English or
Metric). . . . . . . . . . . . . . . . . . . . . . . . . . . . . . 15-14
Safety . . . . . . . . . . . . . . . . . . . . . . . . . . . . . . . . 05-1 Viewing Engine Configuration Data . . . . . . . . . 15-16
Viewing Active Engine Service
Codes/Diagnostic Trouble Codes (DTCs) . . . 15-18
Fuels, Lubricants, and Coolant
Viewing Stored Service
Diesel Fuel . . . . . . . . . . . . . . . . . . . . . . . . . . . . . 10-1
Codes/Diagnostic Trouble Codes
Lubricity of Diesel Fuel . . . . . . . . . . . . . . . . . . . . 10-2
(DTCs) in the Engine ECU . . . . . . . . . . . . . . 15-19
Filling Fuel Tank. . . . . . . . . . . . . . . . . . . . . . . . . 10-2
Diesel Fuel Storage . . . . . . . . . . . . . . . . . . . . . . 10-3 Break-In Service. . . . . . . . . . . . . . . . . . . . . . . . 15-20
DIESELSCANä Fuel Analysis . . . . . . . . . . . . . . 10-3 Auxiliary Gear Drive Limitations . . . . . . . . . . . . 15-22
Minimizing the Effect of Cold Weather on Generator Set (Standby) Power Units. . . . . . . . 15-22
Diesel Engines . . . . . . . . . . . . . . . . . . . . . . . . 10-4 Starting the Engine. . . . . . . . . . . . . . . . . . . . . . 15-23
Bio-Diesel Fuel . . . . . . . . . . . . . . . . . . . . . . . . . . 10-5 Normal Engine Operation . . . . . . . . . . . . . . . . . 15-26
Handling And Storing Bio-Diesel Fuel. . . . . . . . . 10-6 Cold Weather Operation. . . . . . . . . . . . . . . . . . 15-27
Aviation (Jet) Fuels. . . . . . . . . . . . . . . . . . . . . . . 10-7 Warming Engine. . . . . . . . . . . . . . . . . . . . . . . . 15-28
Kerosene (Burner) Fuels . . . . . . . . . . . . . . . . . . 10-7 Idling Engine . . . . . . . . . . . . . . . . . . . . . . . . . . 15-29
Diesel Engine Break-In Oil . . . . . . . . . . . . . . . . . 10-8 Changing Engine Speed-Standard
Diesel Engine Oil . . . . . . . . . . . . . . . . . . . . . . . . 10-9 (Mechanical) Governor . . . . . . . . . . . . . . . . . 15-29
Extended Diesel Engine Oil Service Changing Engine Speed (Engines
Intervals . . . . . . . . . . . . . . . . . . . . . . . . . . . . 10-10 w/Electronic Instrument Panels) . . . . . . . . . . 15-30
Mixing of Lubricants . . . . . . . . . . . . . . . . . . . . . 10-10 Stopping the Engine (Engines With
OILSCANâand COOLSCANä. . . . . . . . . . . . . . 10-10 Standard Instrument Panels). . . . . . . . . . . . . 15-31
Alternative and Synthetic Lubricants. . . . . . . . . 10-11 Stopping the Engine (Engines With
Lubricant Storage . . . . . . . . . . . . . . . . . . . . . . . 10-11 Electronic Instrument Panel) . . . . . . . . . . . . . 15-32
Grease . . . . . . . . . . . . . . . . . . . . . . . . . . . . . . . 10-12 Using a Booster Battery or Charger . . . . . . . . . 15-33
Diesel Engine Coolant . . . . . . . . . . . . . . . . . . . 10-13
Additional Information About Diesel Lubrication and Maintenance
Engine Coolants and Supplemental Coolant Observe Service Intervals. . . . . . . . . . . . . . . . . . 20-1
Additives . . . . . . . . . . . . . . . . . . . . . . . . . . . . 10-14 Use Correct Fuels, Lubricants and Coolants. . . . 20-1
Testing Diesel Engine Coolant . . . . . . . . . . . . . 10-15 Lubrication and Maintenance Service
Supplemental Coolant Additives . . . . . . . . . . . . 10-16 Interval Chart - Prime Power. . . . . . . . . . . . . . 20-2
Operating in Warm Temperature Climates . . . . 10-16 Lubrication and Maintenance Service
Disposing of Coolant . . . . . . . . . . . . . . . . . . . . 10-17 Interval Chart - Standby Power . . . . . . . . . . . . 20-4
Engine Operating Guidelines Lubrication & Maintenance/Daily
Instrument (Gauge) Panel (Standard). . . . . . . . . 15-1 Daily Prestarting Checks . . . . . . . . . . . . . . . . . . 25-1
Instrument (Gauge) Panel (Electronic) . . . . . . . . 15-4
Instrument (Gauge) Panel (Electronic)- Cont'd . . 15-5
Lubrication & Maintenance/250 Hour/6 Month Troubleshooting
Servicing Fire Extinguisher . . . . . . . . . . . . . . . . . 30-1 General Troubleshooting Information . . . . . . . . . 50-1
Lubricating PTO Clutch Shaft Bearings . . . . . . . 30-1 Engine Wiring Layout (Engines w/Electronic
Servicing Battery . . . . . . . . . . . . . . . . . . . . . . . . 30-2 Instument Panel) . . . . . . . . . . . . . . . . . . . . . . 50-2
Changing Engine Oil and Replacing Oil Filter . . . 30-4 Engine Wiring Diagram (Engines
Visually Inspecting Coolant Pump . . . . . . . . . . . 30-5 w/Standard Instrument Panels) . . . . . . . . . . . 50-3
Checking Engine Mounts (Generator Sets). . . . . 30-6 Precautions for Welding on Machines
Checking PTO Clutch Adjustment. . . . . . . . . . . . 30-7 Equipped with ECU. . . . . . . . . . . . . . . . . . . . . 50-4
Engine Wiring Diagram (Engines with
Electronic Instrument Panel) . . . . . . . . . . . . . 50-5 Lubrication & Maintenance/500 Hour/12 Month
Engine Troubleshooting . . . . . . . . . . . . . . . . . . . 50-7
Lubricating PTO Clutch Internal Levers and Electrical Troubleshooting. . . . . . . . . . . . . . . . . 50-13
Linkage. . . . . . . . . . . . . . . . . . . . . . . . . . . . . . 35-1 Lubrication System Troubleshooting . . . . . . . . . 50-15
Cleaning Crankcase Vent Tube . . . . . . . . . . . . . 35-1 Cooling System Troubleshooting . . . . . . . . . . . 50-17
Checking Air Intake System . . . . . . . . . . . . . . . . 35-2 Air Intake System Troubleshooting . . . . . . . . . . 50-19
Replacing (Rectangular) Final Fuel Filter Diagnostic Trouble Code Procedure
Element . . . . . . . . . . . . . . . . . . . . . . . . . . . . . 35-3 (Engines w/Standard Instrument Panel) . . . . 50-22
Replacing (Round) Primary Fuel Diagnostic Trouble Code Procedure
Filter/Water Separator . . . . . . . . . . . . . . . . . . 35-4 (Engines w/Electronic Instrument Panel)) . . . 50-24
Checking Belt Tensioner Spring Tension Displaying of Diagnostic Trouble Codes
and Belt Wear. . . . . . . . . . . . . . . . . . . . . . . . . 35-5 (DTCs) . . . . . . . . . . . . . . . . . . . . . . . . . . . . . 50-25
Checking Belt Wear . . . . . . . . . . . . . . . . . . . . . . 35-5 Listing of Diagnostic Trouble Codes (DTCs) . . 50-26
Checking Tensioner Spring Tension . . . . . . . . . . 35-6 Intermittent Fault Diagnostics . . . . . . . . . . . . . . 50-29
Checking Cooling System. . . . . . . . . . . . . . . . . . 35-7
Testing Diesel Engine Coolant . . . . . . . . . . . . . . 35-8 Storage
Replenishing Supplemental Coolant Engine Storage Guidelines . . . . . . . . . . . . . . . . . 55-1
Additives (SCAs) Between Coolant Preparing Engine for Long Term Storage . . . . . . 55-1
Changes . . . . . . . . . . . . . . . . . . . . . . . . . . . . . 35-9 Removing Engine from Long Term Storage . . . . 55-2
Pressure Testing Cooling System. . . . . . . . . . . 35-11
Checking and Adjusting Engine Speeds . . . . . . 35-12 Specifications
Checking Crankshaft Vibration Damper . . . . . . 35-13 General OEM Engine Specifications. . . . . . . . . . 60-1
Checking Engine Ground Connection. . . . . . . . 35-14 Engine Power and Speed Ratings
Specifications (OEM Engines). . . . . . . . . . . . . 60-3
Lubrication&Maintenance/2000Hour/24Month Engine Crankcase Oil Fill Quantities . . . . . . . . . 60-6
Unified Inch Bolt and Cap Screw Torque
Flushing Cooling System . . . . . . . . . . . . . . . . . . 40-1
Values. . . . . . . . . . . . . . . . . . . . . . . . . . . . . . . 60-7
Checking and Adjusting Engine Valve Metric Bolt and Cap Screw Torque Values . . . . . 60-8
Clearance . . . . . . . . . . . . . . . . . . . . . . . . . . . 40-3
Lubrication and Maintenance Records
Service As Required Using Lubrication and Maintenance Records . . . 65-1
Additional Service Information . . . . . . . . . . . . . . 45-1 Daily (Prestarting) Service . . . . . . . . . . . . . . . . . 65-1
Do Not Modify Fuel System . . . . . . . . . . . . . . . . 45-1 250 Hour/6 Month Service . . . . . . . . . . . . . . . . . 65-2
Drain Fuel/Water Separator Bowl . . . . . . . . . . . . 45-2 500 Hour/12 Month Service . . . . . . . . . . . . . . . . 65-3
Adding Coolant. . . . . . . . . . . . . . . . . . . . . . . . . . 45-3 2000 Hour/24 Month Service . . . . . . . . . . . . . . . 65-4
Replacing Air Cleaner Filter Elements . . . . . . . . 45-4 Service as Required . . . . . . . . . . . . . . . . . . . . . . 65-5
Inspecting Primary Filter Element . . . . . . . . . . . . 45-5
Cleaning Primary Filter Element . . . . . . . . . . . . . 45-5 Emission System Warranty
Element Storage. . . . . . . . . . . . . . . . . . . . . . . . . 45-6 Emissions Control System Certification Label. . . 70-1
Replacing Fan/Alternator Belt . . . . . . . . . . . . . . . 45-7 U.S. Emissions Control Warranty Statement. . . . 70-2
Power Take-Off (PTO) Clutch. . . . . . . . . . . . . . . 45-8
Checking Fuses . . . . . . . . . . . . . . . . . . . . . . . . . 45-9
Bleeding Fuel System . . . . . . . . . . . . . . . . . . . 45-10
Checking Air Compressors . . . . . . . . . . . . . . . . 45-12
======================================== 
File Format: PDF 
Compatible: All Versions of Windows & Mac 
Language: English 
Requirements: Adobe PDF Reader 
---
We Also Recommend
---