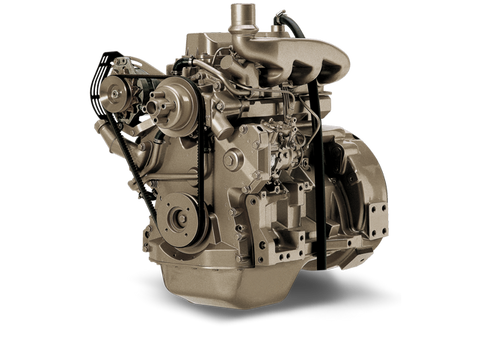 John Deere PowerTech 2.9L Diesel Engines Technical Service Manual
John Deere PowerTech 2.9L Diesel Engines Technical Service Manual
The Best  PDF Manuals Online Includes : High resolution ,Printable Include Bookmarks + Searchable Text + Index = Fast Navigation And Best Organization ! 
This manual contains information and data to this model. Has specs, diagrams, and actual real photo illustrations,  These technical manual is as good as it gets for Diagnosing, Repairing, and Maintenancing John Deere machinery. In addition to space savings, nice thing about having PDF files instead of a hard-printed manual is that you can use the Search feature in Acrobat to find just what your looking for and just print out the exact pages you need... or all manual. 
This component technical manual (CTM125) covers
repair of POWERTECH  2.9 L engines produced by John
Deere Refer to the chart below to know which
applications is covered by this manual.
5000-SERIES TRACTORS
(Agritalia-built) ENGINE MODEL OBSERVATIONS
5300/5300N .............................................................. CD3029DAT01 Non-Certified
5400/5400N .............................................................. CD3029TAT02 Non-Certified
(India-built)
5003E ....................................................................... PY3029DPY03 Certified (Trem 3)
5103 ......................................................................... PY3029DPY03 Certified (Trem 3)
5103 Super .............................................................. PY3029DPY04 Certified (Trem 3)
5103 (Export-U.S.) ................................................... PE3029DPY06 Certified (Tier 1)
5103 (Export-U.S.) ................................................... PY3029DPY12 Certified (Tier 1)
5103 (Export-U.S.) ................................................... PY3029TPY23 Certified (Tier 2)
5103 (Export-Australia) ............................................ PY3029DPY12 Certified (Tier 1)
5203 ......................................................................... PY3029DPY02 Certified (Trem 3)
5203 Super .............................................................. PY3029DPY08 Certified (Trem 3)
5203 (Export-U.S.) ................................................... PE3029DPY05 Certified (Tier 1)
5203 (Export-U.S.) ................................................... PY3029DPY13 Certified (Tier 1)
5203 (Export-U.S.) ................................................... PY3029TPY21 Certified (Tier 2)
5303 (Export-Mexico) ............................................. PY3029DPY07 Certified (Trem 3)
5303 (Export-Turkey) ............................................... PY3029DPY05 Certified (Tier 1)
5303 (Export-U.S.) ................................................... PY3029TPY11 Certified (Tier 1)
5303 (Export-U.S.) ................................................... PE3029TLV52 Certified (Tier 1)
5303 (Export-U.S.) ................................................... PY3029TPY22 Certified (Tier 2)
5303 (Export-North Africa) ....................................... PY3029DPY07 Certified (Trem 3)
5303 (Export-South Africa) ...................................... PY3029DPY07 Certified (Trem 3)
5403 (Export-Turkey) ............................................... PY3029TPY02 Certified (Tier 1)
5403 (Export-U.S.) ................................................... PY3029TPY24 Certified (Tier 2)
5403 (Export-South Africa.) ..................................... PY3029TPY04 Certified (Trem 3)
5010-SERIES TRACTORS
(Agritalia-built) ENGINE MODEL OBSERVATIONS
5310/5310N .............................................................. CD3029DAT50 Certified (Tier 1)
5410/5410N .............................................................. CD3029TAT50 Certified (Tier 1)
(India-built)
5310 ......................................................................... PY3029DPY01 Certified (Trem 3)
5310S ....................................................................... PY3029TPY03 Certified (Tier 1)
5410 (Export-China) ................................................. PY3029TPY01 Certified (Trem 3)
 5105 (Advantage) .................................................... PE3029DLV51 Non-Certified
5105 (Advantage) .................................................... PE3029DLV56 Certified (Tier 2)
5205 (Advantage) .................................................... PE3029DLV52 Non-Certified
5205 (Advantage) .................................................... PE3029DLV57 Certified (Tier 2)
5210 ......................................................................... PE3029DLV53 Certified (Tier 1)
5210 ......................................................................... PE3029DLV54 Certified (Tier 1)
5310/5310N .............................................................. PE3029TLV50 Certified (Tier 1)
5310/5310N .............................................................. PE3029TLV52 Certified (Tier 1)
5015-SERIES TRACTORS
(Agritalia-built) ENGINE MODEL OBSERVATIONS
5215/5215N .............................................................. CD3029TAT70 Certified (Tier 2)
5315/5315N .............................................................. CD3029TAT71 Certified (Tier 2)
5020-SERIES TRACTORS
(Augusta-built) ENGINE MODEL OBSERVATIONS
5220 ......................................................................... PE3029DLV53 Certified (Tier 1)
5220 ......................................................................... PE3029DLV55 Certified (Tier 1)
5320/5320N .............................................................. PE3029TLV52 Certified (Tier 1)
Skid Steer Loader (Knoxville, TN / Dubuque, IO)
Model ENGINE MODEL OBSERVATIONS
240 ................................................................. PE3029DKV50 Non-certified, Non-Aux. drive
PE3029DKV51 Non-certified, Aux. drive
PE3029DKV54 Certified (Tier 1), Non-Aux. drive
PE3029DKV55 Certified (Tier 1), Aux. drive
250 ................................................................. PE3029TKV50 Certified (Tier 1), Aux. drive
PE3029TKV51 Certified (Tier 1), Non-Aux. drive
260 ................................................................. PE3029TKV52 Certified (Tier 1), Aux. drive
PE3029TKV53 Certified (Tier 1), Non-Aux. drive
ENGINES FOR GOLDONI TRACTORS
Engine model Observations
CD3029DFG21 ..................................................................................... Non-Certified
CD3029DFG22 ..................................................................................... Non-Certified
CD3029TFG21 ...................................................................................... Non-Certified
CD3029DFG50 ..................................................................................... Certified (Tier 1)
CD3029DFG51 ..................................................................................... Certified (Tier 1)
CD3029TFG50 ...................................................................................... Certified (Tier 1)
CD3029TFG51 ...................................................................................... Certified (Tier 1)
CD3029TFG71 Certified (Tier 2)
CONTENTS : 
Table of Contents
• General Diagnostic Information
• Specifications
• Electrical Wiring Harness Legend
• Component Location
• System Schematic
• Wiring Harness
• Troubleshooting Chart
• Theory of Operation
• Diagnostics
• Tests and Adjustments
• Repair
======================================== 
File Format: PDF 
Compatible: All Versions of Windows & Mac 
Language: English 
Requirements: Adobe PDF Reader & WinZip 
---
We Also Recommend
---