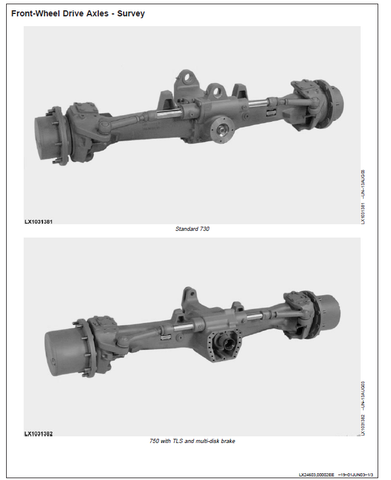 John Deere Front-Wheel Drive Axles 730 733 740 745 And 750 Official Workshop Service Manual
John Deere Front-Wheel Drive Axles 730 733 740 745 And 750 Official Workshop Service Manual
The Best  PDF Manuals Online Includes : Bookmarks + Searchable Text + Index = Fast Navigation And Best Organization ! 
Dont Waste Your Time On Cheap Manuals !
This is the COMPLETE Official Service Repair Manual for the John Deere Tractors.
This manual contains deep information about maintaining, assembly, disassembly and servicing your John Deere. 
This PDF file is Bookmarked and SEARCHABLE to make what you need easy to find. 
This Manual contains information and data to this model. has specs, diagrams, and actual real photo illustrations, and schemes, which give you complete step by step operations on repair, servicing, technical maintenance & troubleshooting procedures for your machine. this manual offers full information you need for repair your machine. the information in this manual will enable you to find trouble and to understand how to repair and maintain your machine without going into service. all pages are printable, so run off what you need and take it with you into the garage or workshop. 
Models And Serials :
This Component Technical Manual contains service
information and a description of the assembly and method
of operation of the following front-wheel drive axles:
700 Series
730, 733, 740, 745 and 750.
CONTENTS : 
Group 00—Safety Information
Recognize Safety Information . .............................00-1
"Important" - Information . .....................................00-1
"Note" - Information . .............................................00-1
Prevent Machine Runaway . .................................00-1
Handle Fluids Safely—Avoid Fires . .....................00-2
Prepare for Emergencies. .....................................00-2
Avoid High-Pressure Fluids . .................................00-3
Remove Paint Before Welding or Heating . ...........00-4
Avoid Heating Near Pressurized Fluid Lines . .......00-4
Work In Ventilated Area . .....................................00-5
Wear Protective Clothing. .....................................00-5
Practice Safe Maintenance . .................................00-6
Park Machine Safely . ...........................................00-6
Use Proper Lifting Equipment . .............................00-7
Construct Dealer-Made Tools Safely . ...................00-7
Support Machine Properly . ...................................00-7
Work in Clean Area. .............................................00-8
Illuminate Work Area Safely . ...............................00-8
Service Machines Safely . .....................................00-8
Use Proper Tools . ...............................................00-9
Service Tires Safely . ...........................................00-9
Service Front-Wheel Drive Tractor Safely . .........00-10
Dispose of Waste Properly . ...............................00-10
Live With Safety . ...............................................00-11
Retighten Wheel Nuts . .......................................00-11
Mixing of Lubricants . .........................................00-11
Lubricant Storage . .............................................00-12
Group 01—General Repair Information
General Safety and Repair Information . ...............01-1
Front-Wheel-Drive Axles - Torques for Bolts
and Nuts . .........................................................01-2
Group 05—Steering Cylinder and Tie-Rods
Other Material . .....................................................05-1
Specifications . .....................................................05-2
Steering Cylinder and Tie-Rods —
Sectional View . .................................................05-3
Steering Cylinder and Tie-Rods —
Exploded View . .................................................05-4
Removing the Tie Rods. .......................................05-5
Remove the Steering Cylinder. .............................05-6
Recondition the Steering Cylinder . .......................05-7
Install the Steering Cylinder . .............................05-12
Install the Tie-Rods . ...........................................05-13
Check and Adjust Tread (Basic Adjustment) . .....05-16
Check and Adjust Toe-In. ...................................05-18
Check and Adjust Steering Angle . .....................05-20
Group 10—Planetary Drive and Wheel Hub
Special or Essential Tools . ...................................10-1
Other Material . .....................................................10-1
Specifications . .....................................................10-2
Planetary Drive and Wheel Hub -
Sectional View (Without Multi-Disk Brake) . .......10-4
Planetary Drive, Multi-Disk Brake and
Wheel Hub - Sectional View . ...........................10-6
Planetary Drive - Exploded View (Without
Multi-Disk Brake) . .............................................10-8
Planetary Drive Removal (Without
Multi-Disk Brake) . .............................................10-9
Planetary Drive Reconditioning (Without
Multi-Disk Brake) . ...........................................10-10
Planetary Drive Installation (Without
Multi-Disk Brake) . ...........................................10-14
Planetary Drive and Multi-Disk Brake—
Exploded View . ...............................................10-16
Planetary Drive and Multi-Disk Brake
Removal . .......................................................10-17
Planetary Drive Reconditioning (With
Multi-Disk Brake) . ...........................................10-20
Planetary Drive and Multi-Disk Brake
Installation . .....................................................10-23
Check Multi-Disk Brake for Leaks . .....................10-28
Planetary Drive - Fill With Oil . ...........................10-29
Wheel Hub - Exploded View . .............................10-30
Remove Wheel Hub . .........................................10-31
Recondition the Wheel Hub. ...............................10-32
Installing the Wheel Hub . ...................................10-34
Group 15—Knuckle Housing and Drive Shafts
Special or Essential Tools . ...................................15-1
Other Material . .....................................................15-3
Specifications . .....................................................15-4
Knuckle Housing and Drive Shaft Sectional
View . .................................................15-5
Knuckle Housing and Drive Shaft Exploded
View . .................................................15-8
Remove Knuckle Housing . ...................................15-9
Recondition the Knuckle Housing and
King Pin . .........................................................15-11
Install Knuckle Housing . .....................................15-15
Knuckle Housing — Adjust the Preload at
the Knuckle Pin Bearings. ...............................15-20
Knuckle Housing — Remove and Install
the Steering Angle Sensor . .............................15-22
Removing the Drive Shafts . ...............................15-23
Recondition the Drive Shafts . .............................15-24
Installing the Drive Shafts . .................................15-27
Group 20—Axle Housing and Differential
Special or Essential Tools . ...................................20-1
Other Material . .....................................................20-2
Specifications . .....................................................20-3
Differential — Sectional View . .............................20-4
Differential — Exploded View . .............................20-8
Axle Housing - Exploded View . .........................20-10
Removing the Axle Housing . .............................20-12
Repairing the Axle Housing . ...............................20-13
Installing the Axle Housing . ...............................20-14
Remove the Bevel Pinion Drive Shaft . ...............20-15
Repairing the Bevel Pinion Drive Shafts . ...........20-17
Install the Bevel Pinion Drive Shaft . ...................20-18
Removing the Differential . .................................20-24
Recondition the Differential . ...............................20-25
Install Differential. ...............................................20-34
Axle Housing - Fill with Oil . ...............................20-39
Group 200—Description and Theory of Operation
Front Wheel Drive Axles - Summary of
References . ...................................................200-1
Description of Front Wheel Drive. .......................200-2
Layout of Front Axle . .........................................200-3
Operation of Differential . ...................................200-5
Operation of Self-Locking Differential . ...............200-7
Operation of Planetary Drive . .............................200-8
Operation of Multi-Disk Brake . ...........................200-9
Positive Front Wheel Lead Check . ...................200-10


======================================== 
File Format: PDF 
Compatible: All Versions of Windows & Mac 
Language: English 
Requirements: Adobe PDF Reader & WinZip 
---
We Also Recommend
---