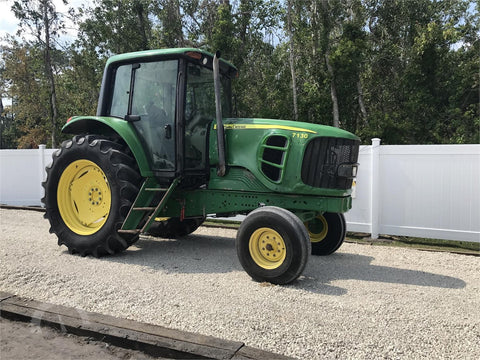 John Deere 6230 6330 6430 6530 6630 7130 7230 (USA) Tractors Diagnostic Service Manual (TM400719)
$149.00

$149.00

Save $550
---
---
John Deere 6230 6330 6430 6530 6630 7130 7230 (USA) Tractors Diagnostic Service Manual (TM400719)
The Best  PDF Manuals Online Includes : Bookmarks + Searchable Text + Index = Fast Navigation And Best Organization ! 
This is the COMPLETE & Official Service Repair Manual for the John Deere Tractors.
This manual contains deep information about Diagnostics your John Deere. 
This PDF file is Bookmarked and SEARCHABLE to make what you need easy to find. 
Illustrated Factory Diagnosis and Tests Service Manual for John Deere 2WD or MFWD - North American Tractors 6230, 6330, 6430, 6530, 6630, 7130 & 7230 (Includes electrical wiring diagrams)

This manual contains high quality images, circuit diagrams, diagnostic procedures to help you to diagnostic, troubleshoot and repair your truck. This document is printable, without restrictions, contains searchable text, bookmarks, cross links for easy navigation.

Language: English
Format: PDF  3315 pages

This diagnostic manual applies to the following tractor
types:
6230
  6330
  6430
  6530
  6630
  7130
  7230
All Model Years 


CONTENTS : 
Foreword
   Serial Number Break 2009
   General Information
      Safety Measures
      General References
   Diagnostic Trouble Codes
      BCU Control Unit
      ECU Control Unit
      EPC Control Unit
      PRC Control Unit
   Observable Symptoms
      Electronics
      Electronic Control Units
      SyncroPlus Transmission
      PowrReverser Transmission
      PowrQuad Transmission
      Drive Train (without Transmission)
      Steering and Brakes
      Hydraulic System
      Operator's Cab
   System Diagnostics
      Electronics
      PowrQuad Transmission
      Die Kugeln (N) werden vorgespannt und der Steuerschieber bzw. Bedienungshebel wird in der Rastnut fur Zylinder ausfahren gehalten.Hydraulic System
   Engine
      General Information
      Operational Checks
      Tests and Adjustments
   Fuel, Air Intake, and Cooling Systems
      Tests and Adjustments
      Fuel System
      Air Intake System
      Cooling System
      Cold-Weather Starting Aids
   Electrical System
      Starting Motor and Charging Circuit
      Fuel Preheater
      Electrical Starting Aid
      Instrument unit
      Horn
      Operator's Seat and Cigarette Lighter
      Lights
      Worklights
      Radio, Dome Light and Console Light
      Air Conditioning and Fan
      Windshield wiper and washer
      Rear window wiper and washer
      Rotary Beacon
      3-Terminal Power Outlet Socket (SAE)
      3-terminal power outlet socket (ECE)
      Connector for Accessories
      BCU Control Unit (Electronic Hitch Control)
      BCU Control Unit (Basic Functions)
      Signal Socket and Service Socket
      7-terminal power outlet socket (ECE)
      7-Terminal Power Outlet Socket (SAE)
      TSC Control Unit (Suspension)
      CAN BUS Terminating Resistor
      ECU Control Unit Level 16 (Electron. Engine Control) for 2V-HPCR Engine
      Back-Up Alarm
      EPC Control Unit (Transmission Control with PowrQuad Plus Transmission)
      PRC Control Unit (Transm. Control with PowrRever. Transm. and Electr. Rev. Control)
      SyncroPlus Transmission
      Prewiring for GreenStar
      Component Information - Connectors and Contacts
      Component Information - Connectors (X001 to X249)
      Component Information - Connectors (X250 to X499)
      Component Information - Connectors (X500 to X749)
      Component Information - Connectors (X750 to X999)
      Component Information - Connectors (XGND)
      Component Information - Wiring Harnesses
      Component Information - Electrical Parts/Components
      Component Information - Electrical Parts/Components (Actuators)
      Component Information - Electrical Parts/Components (Sensors/Switches/Potentiometers)
      Component Information - Electrical Parts/Components (Fuses/Relays/Diodes)
      Component Information - Electrical Parts/Components (Headlamps/Lights)
      Component Information - Electrical Parts/Components (Other)
      Component Information - Ground Connections
      Component Information - CAN BUS System
   Electronic Control Units
      Operation and General Information on Diagnostics
      Interactive Tests
      Interactive Calibrations
      Information on How to Reprogram Control Units
      Data BUS Systems
      BCU Control Unit
      ECU Control Unit
      EPC Control Unit
      PRC Control Unit
   SyncroPlus Transmission
      Operational Checks
      Tests and Adjustments
      Theory of Operation
   PowrReverser Transmission
      Operational Checks
      Tests and Adjustments
      Theory of Operation
   PowrQuad Transmission
      Operational Checks
      Tests and Adjustments
      Theory of Operation
   Drive Train (without Transmission)
      Operational Checks
      Tests and Adjustments
      Front-wheel drive clutch
      Differential
      Final Drives
      Rear PTO Options
   Steering and Brakes
      Introductory Checks
      Operational Checks
      Tests and Adjustments
      Hydrostatic Steering
      Brake valve
      Rear Brakes
   Hydraulic System
      Operational Checks
      Tests and Adjustments
      Theory of Operation
      Oil Filter, Charge Pump and Hydraulic Pump
      Hitch
      Selective Control Valves (SCVs)
      Independent Control Valves (ICVs)
      Hydraulic Block
   Operator's Cab
      Operational Checks
      Tests and Adjustments
      Ventilation/Heating
      Air Conditioning System
   Special Tools
      Special Tools (Dealer-Fabricated)
      Special Tools (Available as Spare Parts)
======================================== 
File Format: PDF 
Compatible: All Versions of Windows & Mac 
Language: English 
Requirements: Adobe PDF Reader & WinZip 
---
We Also Recommend
---