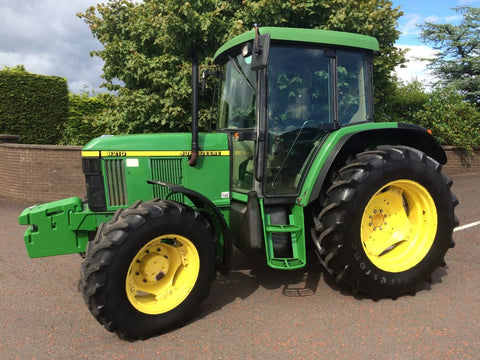 John Deere 6010SE 6110SE 6210SE 6310SE 6410SE 6510SE 6610SE Technical Workshop Service Manual
John Deere 6010SE 6110SE 6210SE 6310SE SE6410 SE6510 SE6610 Workshop Service Repair Manual  
IMPROVED PDF manuals have: Bookmarks + Searchable Text + Index --BEST ORGANIZATION! 
This technical manual includes needed instructions to maintain and service your equipment using detailed diagrams and manufacturers specifications.
Fully Bookmarked chapters for easy navigation allowing you to identify the exact service repair procedures in the quickest time possible. Completely Indexed, Bookmarked and Searchable!
1. John Deere 6010 6110 6210 6310 6410 6510 6610 Tractor Workshop Manual Technical Repair Service Manual.


2. Full Engine Service  Manual ,  POWERTECH 4.5L & 6.8L DIESEL ENGINE TECHNICAL MANUAL.
This Manual covers the following Tractors: 
JOHN Deere 
6010 6110 6210 6310 6410 6510 6610 SE Models
Navigation is simple with convenient bookmarks and ability to search by keyword. Print out entire manual or just what youll be working on! 
CONTENTS :
SAFETY
GENERAL INFORMATION
ENGINE
FUEL, AIR INTAKE, AND COOLING AND EXHAUST SYSTEMS
ELECTRICAL SYSTEM
SYNCROPLUS TRANSMISSION
POWER REVERSER TRANSMISSION
AUTOPOWR TRANSMISSION
POWRQUAD, POWRQUAD PLUS AND AUTOQUAD TRANSMISSIONS
DRIVE SYSTEMS
STEERING AND BRAKES
HYDRAULIC SYSTEM
MISCELLANEOUS
OPERATOR'S CAB
SPECIAL TOOLS
======================================== 
File Format: PDF 
Compatible: All Versions of Windows & Mac 
Language: English 
Requirements: Adobe PDF Reader & WinZip 
---
We Also Recommend
---