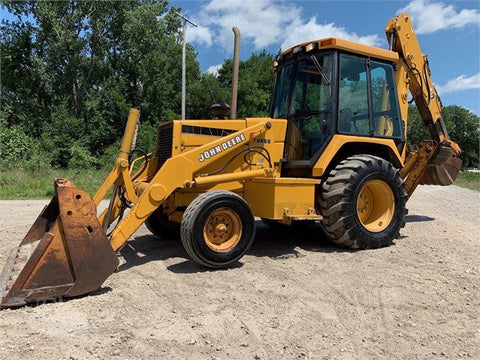 John Deere 410D 510D Tractors Official Service Repair Technical Manual TM1513
John Deere 410D 510D Tractors Official Service Repair Technical Manual TM1513
The Best  PDF Manuals Online Includes : Bookmarks + Searchable Text + Index = Fast Navigation And Best Organization ! 
This is the COMPLETE Official Service Repair Manual for the John Deere Tractors.
This manual contains deep information about Diagnostics your John Deere. 
This PDF file is Bookmarked and SEARCHABLE to make what you need easy to find. 

Original Illustrated Factory Service Repair Technical Manual for John Deere Backhoe Loaders Models 410D, 510D

This manual contains high quality images, instructions to help you to troubleshoot, and repair your truck. This document is printable, without restrictions, contains searchable text, bookmarks, crosslinks for easy navigation.

This manual applies to the following tractor
types:

410D
510D


Table Of Contents:
   Foreword
   General Information
      Safety Information
      General Specifications
      Torque Values
      Fuels And Lubricants
   Wheels
      Powered Wheels And Fastenings
      Non-Powered Wheels And Fastenings
   Axles And Suspension Systems
      Removal And Installation
      Input Drive Shafts And U-Joints
      Non-Powered Wheel Axles
      Powered Wheel Axle (MFWD)
      Axles, Bearings And Reduction Gears
      Hydraulic System
      Dealer Fabricated Tools
   Transmission
      Removal And Installation
      Controls Linkage
      Input Drive Shafts And U-Joints
      Gears, Shafts, Bearings And Power Shift Clutch
      Hydraulic System
      Dealer Fabricated Tools
   Engine
      Removal And Installation
   Engine Auxiliary Systems
      Cold Weather Starting Aids
      Engine Cooling System
      Speed Controls
      Intake System
      External Fuel Supply Systems
   Torque Converter
      Turbine, Gears And Shafts
   Steering System
      Hydraulic System
   Service Brakes
      Active Elements
      Hydraulic System
      Dealer Fabricated Tools
   Park Brake
      Active Elements
      Hydraulic System
   Electrical Systems
      Batteries, Support And Cables
      Alternator, Regulator And Charging System Wiring
      Lighting System
      Wiring Harness And Switches
      System Controls
      Instruments And Indicators
      Motors And Actuators
   Frames
      Frame Installation
      Chassis Weights
   Operator's Station
      Removal And Installation
      Operator Enclosure
      Seat And Seat Belt
      Heating And Air Conditioning
      Dealer Fabricated Tools
   Sheet Metal And Styling
      Hood And Engine Enclosure
      Miscellaneous Shields
      Grille And Grille Housing
      Fenders
   Safety, Convenience And Miscellaneous
      Radio
      Horn And Warning Devices
   Main Hydraulic System
      Hydraulic System
   Loader
      Removal And Installation
      Bucket
      Controls Linkage
      Frames
      Hydraulic System
   Backhoe
      Bucket
      Control Linkage
      Frames
      Hydraulic System
======================================== 
File Format: PDF 
Compatible: All Versions of Windows & Mac 
Language: English 
Requirements: Adobe PDF Reader & WinZip 
---
We Also Recommend
---