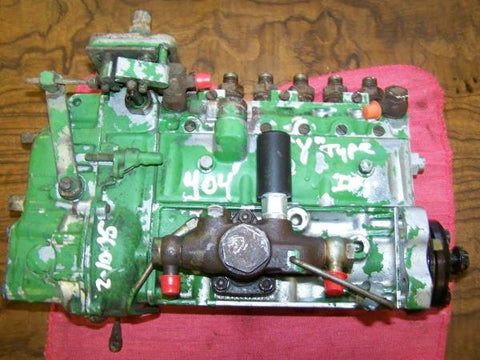 John Deere Electronic Fuel Injection Systems Official Component Service Technical Manual
John Deere Electronic Fuel Injection Systems Official Component Service Technical Manual 
The Best  PDF Manuals Online Includes : Bookmarks + Searchable Text + Index = Fast Navigation And Best Organization ! 
This is the COMPLETE Official Component Service Technical Manual for the John Deere Electronic Fuel Injection Systems.

This PDF file is Bookmarked and SEARCHABLE to make what you need easy to find. 
This manual is provided for diesel engines using
either the Robert Bosch or Nippondenso
electronically-controlled fuel injection system.
The information in this manual contains necessary
instructions to diagnose the electrical portion of the
fuel injection system. Use the information in this
manual in conjunction with the engine technical
manual and/or machine technical manual.
See the engine technical manual for:
• Removal of engine components
• Disassembly
• Inspection
• Testing
• Assembly
See the machine Operations and Tests technical
manual for:
• Theory of operation as it pertains to that machine.
• Diagnostic and testing procedures for that portion of
the system which may be unique to that machine.
(Such as machine digital code readout devices.)
Models And Serials :
 All Years & Serials Covered 
(CTM68 (21FEB97))
CONTENTS : 
Group 00—Safety . . . . . . . . . . . . . . . . . . . 00-1
Group 02—General Information
About This Manual . . . . . . . . . . . . . . . . . . . 02-1
Engine Controller Serial Number Plate . . . . . . 02-1
Injection Pump Serial Number Plate . . . . . . . 02-2
Glossary of Terms . . . . . . . . . . . . . . . . . . . 02-3
System Power Requirements . . . . . . . . . . . . 02-5
Engine Controller Environmental Restrictions . . 02-5
Electrical Concepts . . . . . . . . . . . . . . . . . . . 02-5
Using a Digital Multimeter . . . . . . . . . . . . . . 02-6
Use of a Diagnostic Reader . . . . . . . . . . . . . 02-8
Group 05—Fuel Injection System Components
Major System Components . . . . . . . . . . . . . 05-1
Engine Controller . . . . . . . . . . . . . . . . . . . . 05-1
Robert Bosch Injection Pump/Actuator Assembly . .05-2
Nippondenso Injection Pump/Actuator Assembly . . 05-5
Auxiliary Speed Sensor . . . . . . . . . . . . . . . . 05-7
Transient Voltage Protection Module (TVP) . . 05-8
Group 10—Basic System and Diagnostic Features
How The Electronically-Controlled Fuel Injection System Works
Description . . . . . . . . . . . . . . . . . . . . . . . 10-1
Operation . . . . . . . . . . . . . . . . . . . . . . . 10-2
Self-Diagnosis and Back-Up Features . . . . . . 10-2
Fault Lamp Operation . . . . . . . . . . . . . . . . . 10-3
Governor Modes . . . . . . . . . . . . . . . . . . . . 10-4
Starting Control . . . . . . . . . . . . . . . . . . . . . 10-5
Maximum Fuel Quantity Control . . . . . . . . . . 10-6
Smoke Control . . . . . . . . . . . . . . . . . . . . . 10-7
Fuel Temperature Compensation . . . . . . . . . 10-7
Fuel Flow/Throttle Output Signal . . . . . . . . . . 10-8
Auxiliary Speed Output Signal . . . . . . . . . . . 10-8
Understanding the Throttle Options . . . . . . . . 10-9
Diagnostic Codes Operation . . . . . . . . . . . . 10-11
Using the Electronic Governor Tester—JT05829 . . 10-13
Listing of Diagnostic Codes . . . . . . . . . . . . 10-16
Group 15—Robert Bosch Fuel System Connectors
Engine Controller Connector (X1) . . . . . . . . . 15-1
Auxiliary Speed Sensor Connector (X2) . . . . . 15-4
Fuel Shut-Off Solenoid Connector (X11) . . . . 15-5
Actuator Connector (X12) . . . . . . . . . . . . . . 15-6
Fuel Temperature Sensor Connector (X13) . .15-7
In-Line Connectors (X7, X8, X9, X10) . . . . . . 15-7
Service Connectors (X3, X4, X5, X6) . . . . . . . 15-8
Using the Diagnostic Voltages Connector (X3) . . . . 15-8
Using the Diagnostic Reader Connector (X4) . . . . 15-12
Group 20—Nippondenso Fuel System Connectors
Engine Controller Connector (X1) . . . . . . . . . 20-1
Auxiliary Speed Sensor Connector (X2) . . . . . 20-4
Fuel Shut-Off Solenoid Connector (X10) . . . . 20-4
Actuator Connectors (X7, X9) . . . . . . . . . . . . 20-5
Fuel Temperature Sensor Connector (X8) . . . . 20-6
Service Connector—X3, X4, X5 . . . . . . . . . . 20-7
Using the Diagnostic Voltages Connector (X3) .. . . . . 20-7
Using the Diagnostic Reader Connector (X4) . . .. . . . 20-11
Group 25—Robert Bosch Fuel Injection System Diagnostic Procedures
How to Start Troubleshooting a Problem . . . . 25-1
Troubleshooting Tools Needed . . . . . . . . . . . 25-2
Troubleshooting Suggestions . . . . . . . . . . . . 25-2
Initial Operational Checks . . . . . . . . . . . . . . 25-6
Symptom-Only Procedures . . . . . . . . . . . . 25-11
======================================== 
File Format: PDF 
Compatible: All Versions of Windows & Mac 
Language: English 
Requirements: Adobe PDF Reader & WinZip 
---
We Also Recommend
---