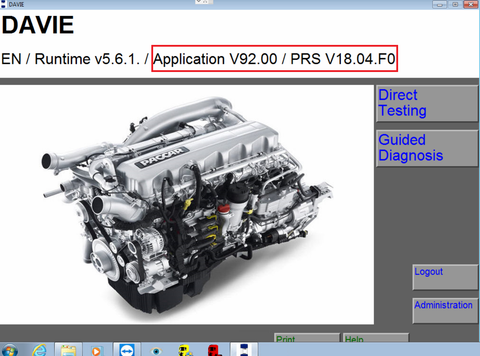 DAF \ Peterbilt \ Kenworth With EURO 6 Paccar Engine AdBlue \ NOX Delete Service Online !
$799.00

$799.00

Save $400
---
---
DAF \ Peterbilt \ Kenworth With EURO 6 Paccar Engine AdBlue \ NOX Delete Service Online !
ALL EURO 6 Trucks 2012-2016 
Full Online Service Via Teamviewer !

Euro 6 trucks Solution (which have ASTRONIC gearbox. NOT TRAXON) :
Increasing speed limit (for example 120km/h). Max standart 90km/h;
Switching off emission related fault codes;
Reflashing with DAVIE3 engine control unit "PCI" to switch off emission control (but without switching off EGR);
Cancel Completely the AdBlue \ Urea need or any error codes !
NO need Any emulators or Hardware Changes !
We will program your ecu to work perfectly without 

Ad Blue \ U

rea 

liquid 

need !

truck doesn't lost torque when finish AdBlue liquid or there is a fault on nox sensor. 
For this service customer must have Paccar VCI And Davie Installed :

DAF / PACCAR VCI 1.0 Interface & Davie Software KIT - Diagnostic Adapter Kit


Attention! AdBlue remove service are illegal in some countries. You should check your local laws or laws of those countries that you might cross with your vehicle. AdBlue remove service alters SCR system thus makes the vehicle to produce higher exhaust gas emissions. EURO 6 and EURO 5 vehicles equipped with AdBlue remove will no longer match those EURO standards. Our AdBlue service designed for countries where environmental rules are less strict, and there are no requirements for vehicles to satisfy EURO 6 or EURO 5 regulations. By purchasing any AdBlue remove service, you assume full responsibility for the use . It's your personal decision to use an remove service or not. We will not accept any liability for any consequences associated with usage of AdBlue remove service.
---
We Also Recommend
---